Description
PP Klemmringverschraubung Universalfitting für PE-Rohr auf Metall- oder Kunststoffrohr
Die Verbindung zwischen den Welten. Professionelle, trennbare Anbindung von PE-Rohr auf Metall- oder Kunststoffrohr.
bis 60°C konstant, kurzzeitig 80°C
Schwarz, Überwurfmutter: Blau
Rohre aus PELD, PEHD, PE40, PE80, PE100


DVGW geprüfte Industriequalität für den direkten Einsatz mit Trinkwasser sowie nährenden Flüssigkeiten.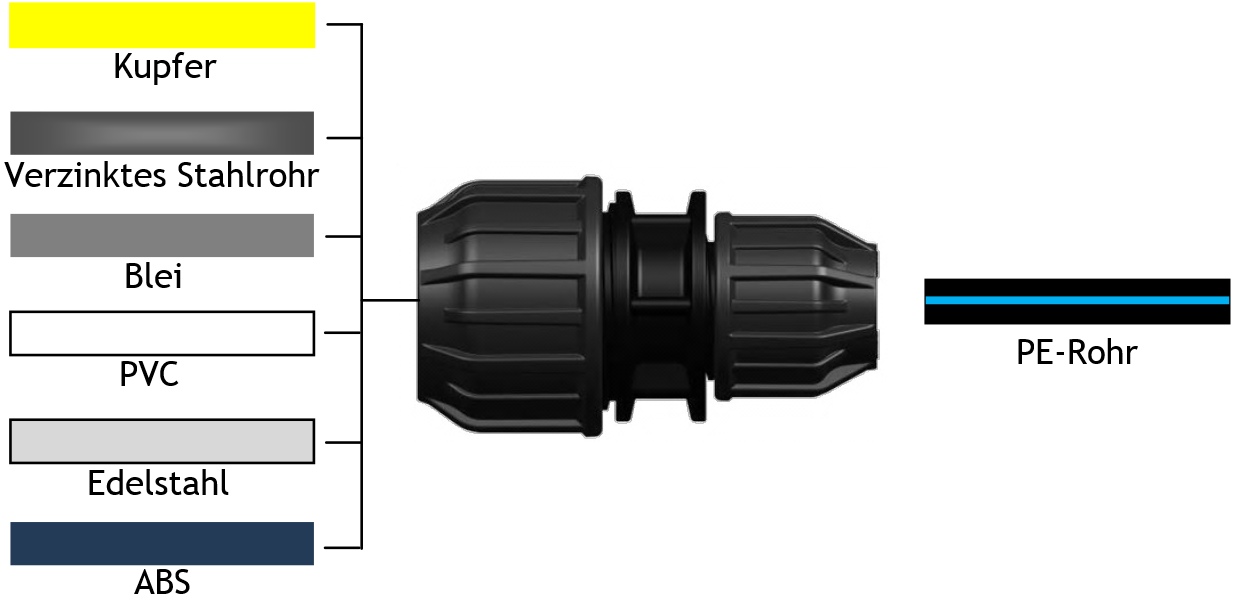 Unidelta Universal Klemmringverschraubung - die Verbindung zwischen den Welten
Der Universalklemmfitting verbindet sicher und professionell Metall- bzw. Kunststoffrohre unterschiedlicher Durchmesser mit PE-Rohr bis max. PN 10 bar bei 20°C.
It´s so easy to connect the differences...
Klemmringverschraubung aus PP Polypropylen - universell einsetzbar
Trinkwasserversorgung:
DVGW geprüft für den Trinkwassereinsatz
Bewässerung:
Landwirtschaft, Gärtnerei & Gartenbau, Weinberge
Besprengung:
Wohngebiete, kommunale Bereiche, Sportplätze, Golfplätze, Reitplätze
Industrie:
Wasserversorgung, Versorgung mit korrodierenden Flüssigkeiten, Kabelschutz
Qualität:
Wetter, UV- und Ozonbeständig, hervorragende, wartungsfreie Korrosionsbeständigkeit
Preis/Leistung:
unser Markenprodukt mit hervorragendem Preis-/Leistungsverhältnis
Others
There are currently no media files available.